Ice Cream
In 2014, we bought a lovely small Jersey cross cow called Daisy. Jersey cows have a lovely temperament and have a high butter fat content in their milk. This high butter fat content is very good for making delicious ice cream, and that is what we did.
We bought a small counter top ice cream maker and started making ice cream, using different ingredients and trying out different recipes. Once we were happy with our ice cream and the ingredients, we went ahead and bought a batch freezer, which has proved a great investment. So, we started making ice cream at our farm in 2016 to sell to our visitors. As we had a ready-made market with the visitor farm.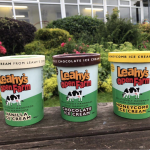 We make numerous flavours of ice creams and sorbets for our visitors to enjoy.
Please note all Ice Cram Orders are collection only
---