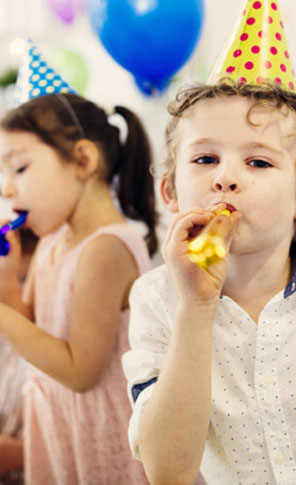 Chocolate Birthday Party:
Chocolate birthday parties are a unique and exciting way to get children involved and to get them interacting. This type of party is particularly unique as children get to create chocolate figurines and experience our amazing farm.
This party will include approximately 1 hr making and decorating the chocolate, eating our delicious hot food and 1.5 hr adventures on the farm.
Everything you make at the chocolate party, you can bring home. You get all this for the price of €22 per child and memories that will last a lifetime.
Ice Cream birthday cake (10 people): €35
Ice Cream birthday cake (15 people): €45
Adult food for the party:
Selection of sandwiches including Tea or Americano: €7.50 per person.
Selection of sandwiches, soup and Tea or Americano: €8.50 per person.
Selection of Chips, gougans and cocktail sausages: €5.50 per person.
---
Family Group
This is a great way for a family to interact and enjoy their time at Leahy's, so why not relish your time doing a 20 minute lollipop making session.
Family time is precious and why not experience this unique opportunity at Leahy's together and make memories that truly last a lifetime.
---
School Tour
Children love getting a hands-on experience, learning and seeing new things. Leahy's can offer the chance to create your own lollipop and the experience of visiting our unique farm. Children will get an all-round experience and even get to take home their handmade lollipops, if it doesn't get eaten first!
Prices start at €14.50 and this will include entry and the lollipop making course.
---
Active Retired
This is for anyone that is actively retired and young at heart, what better way to let your inner child out then by doing a chocolate workshop at Leahy's. Great fun and banter will be had by all and you will get a hands-on and very insightful experience into the chocolate making world. Refreshments will be included after an entertaining workshop.
Prices will start from €22.
---
Hen Parties
Leahy's are offering an exclusive package for hen parties, to give the bride a send off she will never forget.
This package will include a chocolate making workshop where various moulds can be chosen from, from animals, cars, dresses to very 'special' moulds that are only exclusive to hen parties.
From there you will be brought up the farm to experience the complimentary quad and barrel train rides and digger rides for the group. You may even hold the snake and maybe a few hens…
You can also pick from 2 of the extra activities for added fun on the farm.
---
Afternoon Tea
This is a new addition and includes our delicious chocolate, where you can taste our various fillings including, Baileys, Salted Caramel and many more.
Along with our delicious tasty treats you will get complimentary tea/coffee.Other chocolate treats are included as well as homemade marshmallows, honeycomb, meringues etc.This is ideal for anyone with a sweet tooth!
---
Transition year and Secondary school groups
Our chocolate course is a real treat for older students, from making chocolate lollipops, to decorating and packaging chocolate moulds. The students will really enjoy this fun relaxing time with their friends.
Business and Ecology learning can be included to get more from the day trip and it can be an extra learning tool for students as part of their educational curriculum covering some course content in a fun way.
After the workshop, the students get to experience some fun on the farm. They will be taken on a tour of the farm with their guide who will entertain them with quad and barrel train spins, digger rides and hands on interaction with our lovely animals.
At least 3 hrs is needed for this experience.
---
Tour Operator/Holiday groups
Are you looking for something unique for your group of holiday makers to experience while in East Cork. Then look no further. We can offer 30 min to 1 hr chocolate workshops, which will excite and entertain your group, leaving them delighted with their chocolate making handy work.
We will give a quick history on chocolate and how it came to be so delicious. We will do a demonstration of moulding chocolate. The group will make and create their own chocolate lollipops and decorate their own chocolate figurine. They will then package their creations to bring away with them.
We will serve Tea/Coffee and fresh homemade scones. After the chocolate experience, we will bring the group on the farm for some real simple fun. You would need to allow at least 3 hours for this experience.
---
Adult Birthday or Anniversary Party
Are you looking for an alternative venue to hold your party, then, why not come and celebrate at Leahy's.
We can reserve an area in our new ice cream and chocolate factory for you. The area can be decorated to your taste and we will supply a guide to help with organising your day. We will give complimentary quad and barrel train rides to the group. The digger rides and crazy golf would be discounted for your group.