History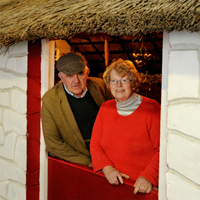 Eddie and Eileen Leahy married at a young age.  They had 7 children and lived in the little old cottage in the centre of the yard which is now known as Farmer Eddie's Cottage.  The old cottage dates back over 200 years, Eddie and Eileen's first four children were born into the cottage, Linda, Laura, James and Tina.
Life was hard and farming was not easy at this time, but Eddie and Eileen still managed to scrap their coppers together to build a brand new house.  The family moved around the mid 70's about a hundred yards down the boreen close to the main road, to cater for their ever increasing brood, the final 3 then came along, Susan, Donal and Eamon, at the time it was more important for the family to be out of the old cottage as there were 10 young sows going to be farrowing in the cottage 6 weeks later, so it had to be cleaned out and crates placed in ready for the sows.
Default Gallery Type Template
This is the default gallery type template, located in:
/home/leahys/public_html/wp-content/plugins/nextgen-gallery/products/photocrati_nextgen/modules/nextgen_gallery_display/templates/index.php.
If you're seeing this, it's because the gallery type you selected has not provided a template of it's own.
Eddie and Eileen started off their farming life in very humble beginnings with 4 cows. 3 cows were milked in the summer and in the winter, as the stall in the yard could only hold 4 cows.  The land was of poor quality and a lot of hard labour had to be endured to reclaim it.  As Eddie and Eileen had very little animal housing to begin with every effort was made to expand and very slowly but surely, over the years the farm turned into a very successful Dairy and Pig Farm.  While being very busy running the farm, Eddie had a love for vintage farm machinery and he and Eileen often went off to vintage festivals and over the years they picked up a massive collection of vintage machinery.  In 1996 they took a massive leap of faith and opened the farm to the public showing off what they had collected, with family support behind Eddie and Eileen and the huge interest shown by the public, the next step was to build a coffee shop to cater for the visitors, this proved to be a huge success over the years because of Eileen's absolute love of home-baking.  There are no cakes bought in for the coffee shop.  Everything is freshly home made every day by Eileen and other family members.
Eddie and Eileen saw so much potential in diversifying into agri tourism that they needed some extra help and advice, as to how, to proceed further in their ambitions for the open farm.  They contacted East Cork Area Development, a local development group in Midleton to see if they could help with the open farm concept. To date the support, advice and funding received through the ECAD Group has been fundamental to the development of the farm and every year we have been able to grow, including extra attractions and facilities to the farm.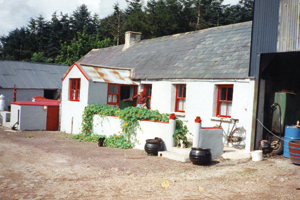 Over the years, the farm has grown from strength to strength attracting thousands of visitors and is now a well known tourist attraction in East Cork, because of Eddie and Eileen's initial idea to diversify into agri-tourism it has enabled some members of the family to work full time in the business.  For Eddie and Eileen, this is a great achievement in keeping their family together.  All the members of Eddie and Eileen's family are so proud of the success of the open farm because if it were not for Eddie and Eileen's commitment and bravery to diversify from farming, the traditional farming enterprise would not have sustained the employment needed to keep the family working together.
Eddie and Eileen are an inspiration to all of us, showing us that if we really believe in something, that through hard work and commitment it can become a reality.
Because of them, we have no fears for the future.